3° VIERSEL Team Series pour l'équipe Tri.GT/ D1
1° Emeline MESSIAEN Triathlon promo ChiĂšvres /3° Florent PAREIN
3° Etienne CLAISSE Triathlon Quart ChiĂšvres/6° Ben THIROT
Excellente Perf d'Erwin 13° et Chris 15° KARLO VIVARY Coupe du Monde
Françoise THEATE Championne du Monde Triathlon Sprint LAUSANNE et 2° en Quart !!
Beaux rĂ©sultats de nos trigĂ©tistes en Ch. du monde Ă  LAUSANNE en groupe d'ñge.
8°Justine MATHIEU 70.3 Triathlon de VICHY
Swimrun Belgium de Robertville Sottiau Julien 1er
---
TEAM SERIES T3 en DIVISION 1 Ă  VIERSEL
L'article de Nord Eclair

AprÚs la victoire incontestable du TRIGT - Arena Triathlon Team - Triathlon Club du Grand Tournaisis ( 1er Alexandre Montez, 2Úme Christophe De Keyser - triathlete, 10 Úme Edouard Verstraete, 12 Úme Jimmy Kershaw) sur la manche de Weiswampach la semaine derniÚre, 3 clubs se tenaient en 1 unité ( TDL-Forsite Atriac, Antwerpse triatlon en duatlon club et le Trigt) .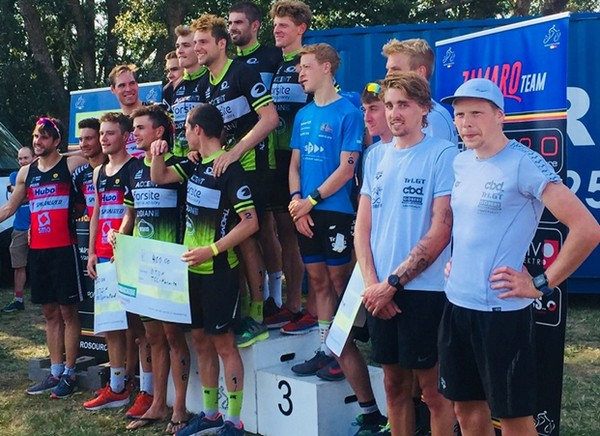 Ce samedi aprÚs-midi, le ZAMARO-Wilierteam organisait la 4 Úme manche Team séries.
Un groupe d'une dizaine d'athlĂštes a pris un peu plus de 30 secondes d'avance sur "le peloton" Ă  la T2. Sous la chaleur, les hommes se sont faits trĂšs mal pour tenir un tempo mĂȘme si c'est " 5km". Tout va se jouer sur l'addition des places ! Tdl va remporter la manche et les 50 points en plaçant ses 4 athlĂštes de la 5 Ăšme Ă  la 13 Ăšme place.
Le Smo est second team et le Trigt prend lui la 3 Ăšme place devant l'Atriac. Notons qu'aux scratch le français du Ktt quentin Barreau remporte la course, Jonathan Wayaffe second, Simon de Cuyper monte sur la 3 Ăšme marche ( place importante dans le classement du Smo sur cette manche) . Il reste donc une seul course le 22 septembre pour la division 1 et 2. 3 athlĂštes vont se relayer sur un format Super Sprint. _ Au ranking club, le Tdl a replacĂ© le Trigt Ă  10 points et a mis une option sur la victoire finale. Tout est encore possible bien entendu et soyons certain que le SMO-Specialized Triatlon Team va encore vouloir monter sur la boĂźte ! Bravo Ă  l'ensemble des athlĂštes et clubs qui participent Ă  ce challenge D1 D2.
---
COUPE du MONDE Ă  KARLO VIVARY
Résumé d'Erwin VANDERPLANCKE
Top 15 again in World Cup Karlovy vary (14), try and fight to keep the top 10 until 7,5 km (3 laps) before to collapse in the last lap and losing precious places, what a hard race ! Still satisfied about the consistency. Next stop World Cup Banyoles !
Top 15 encore une fois sur la coupe du monde de karlovy vary, je me suis battu pour rester dans le top 10 durant 7km5 (3 tours) avant de m'effondrer dans le dernier tour qußme fera perdre des places précieuses, quelle course difficile ! Je reste satisfait de ma constance sur les manches coupe du monde ! Prochain départ coupe du monde Banyoles
Résumé de Christophe DEKEYSER
De retour sur (la droite) aprĂšs une solide 16 Ăšme place hier @ coupe du monde karlovy vary !
Je me suis senti bien sur le vĂ©lo et j'ai essayĂ© de m'Ă©chapper plusieurs fois, mais je me suis toujours fait prendre par la meute ! Heureux de ma forme actuelle et excitĂ© pour ce qui se passe ensuite ! !đŸ'ŒđŸ»
Back on (the right) track after a solid 16th place yesterday @ world cup Karlovy Vary !
Felt great on the bike and tried to get away several times, but I always got caught by the pack ! Happy with my current form and excited for what comes up next !

---
Ironman 70.3 en Autriche Ă  ZELL AM ZEE
Résumé de PIERRE BALTY :
11iĂšme Ă  l'Ironman 70.3 de Zell am See ! Content de me rapprocher petit Ă  petit des 4h00 (4h07) et des progrĂšs rĂ©alisĂ©s Ă  vĂ©lo ! đŸ€Ș😀 et Ă  moin de 12 minutes du vainqueur et seulement avec 7 semaines d'entraĂźnement .en plus j'ai devancĂ© quelques vainqueurs sur Ironman et notamment le vainqueur du 70.3 de Luxembourg ! Ă  bientĂŽt sur OPPREBAIS + l'IRONLAKES et enfin Ă  LANZAROTE !!

---
CHAMPIONNATS du MONDE Ă  LAUSANNE
Françoise THEATE : Championne du Monde de Triathlon Sprint et Vice Championne du Monde en Quart Olympique le mĂȘme Week End !!
Magniques Performances de Françoise
Commentaire de 3athlon de Hans Cleemput:Zondag stonden er opnieuw veel Belgen aan de start van het WK kwarttriatlon in Lausanne. Het Belgium3Team project werpt duidelijk zijn vruchten af. Er waren zelfs een aantal landgenoten die de dubbel realiseerden met zaterdag het WK sprinttriatlon en zondag het WK kwarttriatlon. Francoise Theate deed dat met succes.
Na goud op de sprint pakte ze zondag zilver op de kwartafstand.

Résumé de Mathieu Dollé :
Back to the 2019 ITU World Triathlon Grand Final Lausanne with the 15th place ‌ 🏆🏆 đŸ'ŠđŸ€™
🔾Il vaut mieux tard que jamais
 je redescends seulement de mon petit nuage ☁ đŸŠâ€â™' 🚮 đŸƒâ€â™'
🔾Au menu du jour il y avait 750m/20km/5km, dans une eau Ă  23° 💩 ☀ 🏝 ce qui nous amĂšne Ă  une natation sans combinaison.
🔾La tactique de course visait un dĂ©part natation rapide pour mener rapidement la meute. AprĂšs plusieurs accĂ©lĂ©rations franches sur les 250 premiers mĂštres l'objectif Ă©tait de casser un maximum le groupe sans prendre la tĂȘte en solitaire pour Ă©viter de se retrouver seul Ă  la sortie de l 'eau. Chose faite puisque nous sortons Ă  2 avec une grosse trentaines de secondes d'avance, ce qui laisse croire Ă  une partie en vĂ©lo en duo, chassĂ©e par le groupe de poursuivants.
🔾AprĂšs un dĂ©part solide en vĂ©lo , je prends le leadership de la course. Je me retrouve Ă  rouler seul đŸ˜žđŸ˜"đŸ˜©đŸ˜ą jusqu'à  pratiquement la fin du parcours vĂ©lo. Je suis repris par le groupe de poursuivants Ă  moins d'un km du parc Ă  vĂ©lo. s'ensuit une partie course pieds compliquĂ©e puisque beaucoup de cartouches ont Ă©tĂ© Ă©puisĂ©es Ă  vĂ©lo vu la configuration du parcours. Je passe la ligne d'arrivĂ©e en 15 Ăšme position Ă  moins de 3minutes de la tĂȘte de course ✅ 🏆
🔾🔾Ce qui ressort de ce rĂ©sultat satisfaisant, c'est mon manque d'expĂ©rience notable sur ce genre de course, dans ce sport il n'y a clairement pas de place pour l'improvisation ‌
🔾Un week-end de folie đŸ"ł avec toute la team belge , mes parents et vous tous avec vos nombreux messages sur les rĂ©seaux ou en live. Un grand merci Ă  tous, vos messages m'ont fait plaisir et promis tout le monde aura une rĂ©ponse 


Résumé de InÚs HAINAUT et Clin d'Oeil à Adélie JADOT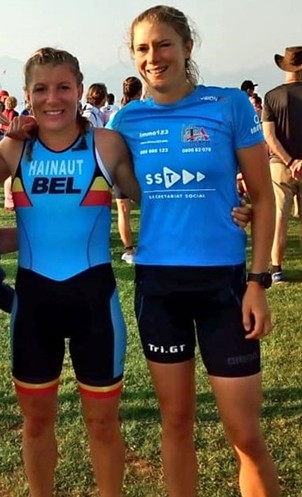 Retour sur les Championnats du Monde de triathlon en Âge group sur la distance sprint qui avait lieu samedi dernier Ă  Lausanne 🇹🇭 oĂč je termine Ă  une belle 11ieme place / 81 en 1h11 đŸ€—
Petit résumé pour les amateurs :
đŸŠâ€â™€ïž Le dĂ©part est donnĂ© Ă  9h, natation sans combi car l eau est Ă  22,1 degrĂ© ce qui m arrange, je boucle les 750m en 12'39 et sort 29ieme de l'eau, ce qui est correcte par rapport Ă  d habitude mĂȘme si insuffisant par rapport aux autres.
đŸ€žâ€â™'Transition mitigĂ©e et je m'élance sur Le vĂ©lo.
đŸšŽâ€â™€ïž Un vĂ©lo avec de super bonnes sensations oĂč je commence ma remontĂ©e ! J'arrive Ă  trouver 2 anglaises pour drafter sur le 1er tour oĂč je rĂ©alise le 2ieme meilleur temps 😋 et une allemande sur le second oĂč on arrive Ă  bien s'entendre pour boucler les 2 tours en 33'35 donc 32.8km/h de moyenne et 5ieme temps vĂ©lo trĂšs proche des autres.
đŸ€žâ€â™'Je pose le vĂ©lo 11ieme et sort du parc 12ieme avec une transition un peu lente 🙄
đŸƒâ€â™€ïž Les jambes sont lourdes en commençant Ă  courir et vu les 3 cĂŽtes qui s'annoncent aprĂšs 1,5km par peur de me brĂ»ler trop vite, je pars plus lente, trop lente par rapport Ă  d habitude et de ce que je peux faire... Les cĂŽtes font mal mais ça passe sans soucis au final je continue Ă  depasser des filles mais aucune idee si elles sont dans ma catĂ©gorie ou pas (on court Ă  "l'aveugle" avec aucune idee de sa place). Quand je dĂ©cide d'enfin relancer il ne reste que 1,5km... Je me sens bien et j'essaie d'allonger pour rattraper mon retard et finalement passer la ligne d'arrivĂ©e avec le sourire et en forme en 1h11 đŸ'Ș
J'ai pris Ă©normĂ©ment de plaisir sur cette course et suis contente du rĂ©sultat mĂȘme si quand je vois les rĂ©sultats finaux oĂč je termine Ă  1min du top 5 et 2min du podium je suis un peu frustrĂ©e mais il n y a pas de regrets Ă  avoir... On apprend sur chaque course et c'est cette expĂ©rience qui nous fait Ă©voluer ! 😊
Une course que j'avais entamée assez stressée aprÚs 2 semaines plus difficile au niveau santé mais avec un mental d'acier et les objectifs sont rempli !
Objectifs de la course :

finir ds 1ere moitiĂ© du classement ✔
prendre du plaisir ✔✔
Félicitation à mon binÎme d'entraßnement Adélie Jadot pour sa belle 28ieme place sur la distance olympique en 2h34 ! Ainsi que tous les autres belges présents.

Résumé de Julien GRIMONPREZ :
🛑Pour les pressĂ©s :
⏱ 46eme/103 participants dans ma categorie en 1h10min22sđŸ'Ș
🛑Pour les courageux :
😊Une chance inouĂŻe de participer Ă  une compĂ©tition telle que le championnat du monde itu sur le sprint (🏊 750m, 🚮 20km, 🏃 5km). Donc dĂšs la qualif obtenue, la fiertĂ© de pouvoir porter les couleurs belge Ă©tait la ! đŸ€© 🇧đŸ‡Ș Let's go...
Samedi levĂ© tĂŽt car il faut prĂ©parer les affaires et j'aime ĂȘtre Ă  l'avance. Nous avions un dĂ©part Ă  11h05, nous avons pris le temps de bien nous posĂ© avant la course pour ne pas avoir, Ă  priori..., de soucis...
10h,le moment d'aller s'Ă©chauffer... 10h20.... Bizarrement je titube vers la droite en marchant Ă  chaque pas... Je perds mĂȘme l'Ă©quilibre dans l'eau Ă  hauteur de genoux... Tout tourne autour de moi que je sois assis ou debout... Je m'allonge donc et la ça va... Thibaut un peu inquiet me demande quand mĂȘme si je dĂ©conne mais il voit bien que ça ne va pas...
Je dĂ©cide quand mĂȘme aprĂšs apres avoir nagĂ© sur le cĂŽtĂ© de prendre le dĂ©part car ça va.... plus ou moins et qu'on loupĂ© pas une course comme celle lĂ ... (oui les sportifs sont cons 😂)
Préparation dans le sas....
🏊 ON YOUR MARK.... 📱
750m Ă  boucler... Une nage qui se passe bien, j'ai dĂ©cidĂ© de partir sur la droite, comme beaucoup je vois... Un peu la bagarre mais je m'Ă©carte un peu pour Ă©viter cela... Je me sents bien dans l'eau, je donne ce que je peux. +-250m contre courant pour commencer, +-300m les yeux dans le soleil et 200m courant de dos... Quelques vagues animent le parcours dans une eau splendide ! Tout se passe bien, la montre donne quand mĂȘme un peu plus (790m)
Un temps de 12min29s me propulse Ă  la 33eme place 😏đŸ'Ș
⏱ T1 : longue car le parc est grand... J'avais bien repĂ©rer le trajet donc aucun souci pour la transition
🚮 Parcours qui fait un peu peur... Une grosse bosse (10%), une montĂ©e et une Ă©norme descente(12.5%) Ă  faire deux fois....
On monte sur le vĂ©lo... Et up oula ça tangue encore Ă  droite en mettant les chaussures et je manquent de prendre le bord de la route... Pas grave on repart... Je ne peux pas prendre le groupe devant moi mais un groupe est juste derriĂšre. Je n'arrive Ă  suivre que jusque la bosse oĂč lĂ , 2mecs tombent devant moi... Juste le temps de faire un Ă©cart Ă  droite pour Ă©viter Ă©galement la chute... La bosse pique bien au cuisses et le groupe se disperce. Plus loin un petit rond point en descente que thibaut a particuliĂšrement apprĂ©ciĂ©(passage pas Ă©vident). Plus loin la fameuse descente de 12.5% suivie d'un virage Ă  angle droit oĂč l'on a qu'une demi route pour tourner... La prudence est de mise mais ça passe nickel. S'en suit une ligne droite et un passage compliquĂ© Ă  relance. Au pied de cette descente, j entends de l'autre cĂŽtĂ© de la route une personne glisser et tombĂ© dans les barriĂšres et mousses.... Aie aie aie impressionnant !!! Ça calme... La suite du vĂ©lo (2eme tour) s'est dĂ©roulĂ© de la mĂȘme maniĂšre (sans dautres chutes)
Ma femme me dira qu'Ă  la fin de la course que je dĂ©pose le vĂ©lo Ă  la 23eme place đŸ'Ș
Un temps de 31min32s pour 18km
⏱ T2 : rien de particulier, ça passe mais les pas sont lourd...(mais ça tourne pas 😂)
🏃 Un tour de 5km.... Il fait chaud !!!! Pas d'air, pas de vent, que de la chaleur.... Les pas sont lourd et le chrono ne descend pas... DĂ©but de course rien ne tangue... Puis finalement quelques moment oĂč je titube Ă  droite mais il faut finir !!! Le moral n'est pas au beau fixe car je me fais beaucoup doubler alors qu'en course Ă  pied j'ai plutĂŽt l'habitude de l'inverse et je misais beaucoup sur la course Ă  pied... Finalement une course Ă  pied sans plaisir, oĂč il y a 2 bosses et des petits vertiges... La moyenne au kilomĂštre me montre bien que ça ne va pas... 4.28/km n'est vraiment pas habituel alors que je tourne "facilement" sous les 4.00 sur ce genre d'Ă©preuve...
Un temps de 22min06s đŸ˜"
Chrono final de 1h10min22s fier tout de mĂȘme mais pas content de la course Ă  pied...
Ce qui suit est Ă©pique...
Nous rentrons et dĂ©cidons de partir en ville voir les pros, Thibaut vois bien que c'est pas la forme et on s'arrĂȘte dans un bar pour prendre un coca... Ça tourne tjrs,... Je dĂ©cide de m'allonger, dans le bar 😏, ça va mieux donc je reste ainsi. _ _ _ Finalement une amie vient nous chercher en voiture et nous ramĂšne Ă  l'hĂŽtel... AprĂšs rĂ©flexion, oui l'entourage a raison, faut aller Ă  l'hĂŽpital...
Je passe certains dĂ©tails mais s'en suit test, j affole les machines cardiaque car elles n'ont pas l'habitude d'une cƓur qui bat sous 40bpm 😅, prise de sang, injection de je sais plus quoi, scanner cĂ©rĂ©bral,... Perte de connaissance,... Ouf pas de vomissement. Finalement on me libĂ©re Ă  4h30 car rien de central mais plutĂŽt pĂ©riphĂ©rique et pas inquiĂ©tant car le tableau des symptĂŽmes est incomplet... Mais ça va quand mĂȘme mieux....

Résumé de Thibaut Vercruysse

🏁 78/103 , objectif
Superbe expĂ©rience avec une course Ă  pression alors que je ne devais pas en avoir car je n'avais rien en jeu Ă  part PRENDRE UN MAX DE PLAISIR ! 😎
🏊La pression est venue d'elle mĂȘme avec le traditionnel « ON YOUR MARKS » « BOUM » suivi d'un dĂ©part rapide dans l'eau et une claque dans mes lunettes au bout de 15m. « Mec, on a tout le lac Leman, comment tu as fait pour m'en coller une ? », me disais-je en continuant de nager malgrĂ© un peu d'eau qui s'Ă©tait infiltrĂ©e mais pas assez pour m'arrĂȘter. J'ai pris plaisir Ă  nager dans cette eau limpide.
🚮 Sorti de l'eau en mĂȘme temps qu'un japonais et un australien, nous partons ensemble Ă  vĂ©lo. Le japonais pousse fort sur les pĂ©dales, j'ai du mal Ă  le suivre. J'apprĂ©hendais beaucoup ce parcours, faute de repĂ©rage la veille. Nous avions Ă©tĂ© pris de cours entre le briefing, le retrait des dossards, le check-in vĂ©lo et les courses juniors qui avaient dĂ©marrĂ©. Je savais qu'il Ă©tait exigeant avec une grosse bosse Ă  10%, des turn-point et des relances , une descente Ă  12,5% đŸ˜±.
Ça roule vite, le japonais finit par lĂącher dĂšs la premiĂšre bosse, on forme un petit groupe et on file. Beaucoup de prise de risques et de tension dans cette partie vĂ©lo qui me coĂ»tent une belle chute dans le rond-point et un tout droit au sol dans les barriĂšres. MAUVAIS CHOIX DE TRAJECTOIRE TIB ! Bien jouĂ© champion 👏
Je suis juste content de pas avoir fait un bowling avec mes adversaires. Je prĂ©fĂšre foirer ma course tout seul comme un grand 😱
Je me relĂšve directement, regarde mon vĂ©lo, la roue n'est pas voilĂ©e, le cadre n'a pas une griffe, mais la cocotte avant est tordue. Je teste immĂ©diatement les freins car je devais encore descendre la pente Ă  12,5%...ça fonctionne ! Yes !!! _ J'enfourche, je soupire un coup et go. En attendant, mon groupe a filĂ©, j'en ai vu d'autres passer dont mon ami japonais qui m'a regardait par terre. Il me reste 5km, je suis pas venu pour abandonner malgrĂ© un vĂ©lo tordu et un bras en sang. đŸ'Ș
J'arrive Ă  la transition et 2Ăšme bourde, je glisse de ma cale en descendant de vĂ©lo. 2Ăšme fois par terre avec une chaussure restĂ©e sur la route....c'est pas comme si j'avais fait ça Ă  l'entraĂźnement et en compĂ©tition 200fois. Des spectateurs m'encouragent et me conseillent de bien souffler pendant ma transition. Super motivant tout ce public , au moins je leur ai donnĂ© du spectacle. 😂 (la honte)
🏃 Allez go, essaye de faire quelque chose de bien sur cette course, me disais-je Ă  nouveau. Je suis parti sans rĂ©flĂ©chir, la chute Ă©tait dĂ©jĂ  oubliĂ©e, j'ai chaud, super chaud,...tu m'Ă©tonnes , il est midi. J'essaye de faire abstraction de ce paramĂštre. Je me motive en croisant un belge qui me tape dans la main, je dĂ©passe mon Japonais, et je vais chercher cette derniĂšre ligne droite. J'entends beaucoup de « Come on Belgium », c'est super motivant. Mais je suis loin du temps que j'espĂ©rais.
Si ça peut vous rassurer, ils ont quand mĂȘme bien voulu me donner ma mĂ©daille

---
TRIATHLON de CHIEVRES
Mini Résumé d'Etienne Claisse :
3Ăšme place au triathlon de ChiĂšvres. Une course correcte malgrĂ© une mauvaise course Ă  pied due Ă  des douleurs au ventre. DerniĂšre grosse course de l'annĂ©e dans deux jours avec le triathlon XL de GĂ©rardmer (1.9km natation – 90km vĂ©lo – 21km course Ă  pied) đŸ'"đŸ'"

RĂ©sultats QUART en Hommes :

3°Etienne CLAISSE
6° Benoit THIROT
20° Baptiste KESTELIJN
21° Benoit DUJARDIN
35° Fred MERCHIE
61° Fred MALICE
68° Hassan JAIKEL
91° Tommy DETEMMERMAN
97° David MAILLET
131° Christophe LAUWERS
167° Kriztof KAWALSKY
193° Vincent DESFROMONT

RĂ©sultats QUART en DAMES :

8° Jeanne WYSEUR
9° Delphine VERMEULEN

RĂ©sultats Promo HOMMES :

3° Florent PAREIN
7° LoĂŻs VANHOVE
11° Benjamin MESSIAEN
12° Jean DEBONNET
22° Romain MESSIAEN
29° Bart GOEMAERE
51° Francis PAREIN
59° greg VANHOVE
135° Ludovic FORNER/

RĂ©sultats PROMO DAMES

1° Emeline MESSIAEN
5° Cindy MAILLET
18° Ingrid DUHANT
32° Claudine LAMBRIX
L'article de L'Avenir de Loïc DEFOORT :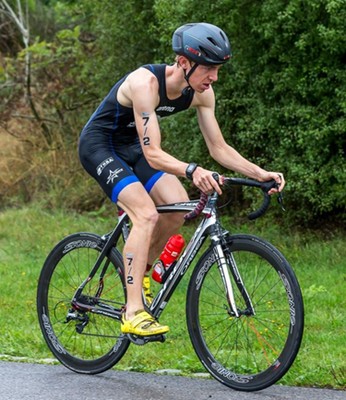 Étienne Claisse est toujours trĂšs motivĂ© quand il nage, roule et court dans la citĂ© chiĂšvroise.
Des Ă©chos reçus, le Triathlon de ChiĂšvres qui s'est tenu dimanche n'a fait que des heureux ! Il est vrai que tout Ă©tait rĂ©uni pour vivre un beau moment de sport : une organisation rodĂ©e, des circuits parfaitement sĂ©curisĂ©s et de qualitĂ©, une belle affluence au niveau de la participation, un soleil agrĂ©able qui faisait grimper le mercure Ă  une tempĂ©rature idĂ©ale et un plateau d'un bon niveau.
La preuve en est avec la victoire, sur la course au format olympique, d'Axel Baumans qui, aprĂšs s'ĂȘtre dĂ©tachĂ© Ă  l'issue de la natation avec trois autres concurrents, a pris seul les devants Ă  vĂ©lo et a creusĂ© un bel Ă©cart qu'il a encore fait grandir lors de la course Ă  pied. Le tout en gĂ©rant comme il le disait Ă  l'issue de la course : « Tout au long de l'épreuve, j'avais de bonnes sensations. Puisque je suis en pleine prĂ©paration pour les championnats du monde de la semaine prochaine Ă  Nice, j'avais reçu des consignes de mon coach. Ainsi, il m'avait dit que si j'avais une certaine avance aprĂšs le vĂ©lo, il serait bien de gĂ©rer la course Ă  pied, ce que j'ai pu faire », confiait le Jalhaytois de 22 ans.
DerriĂšre l'affiliĂ©e du club des Ardennes, pointait en seconde position Olivier Philippe du RCBT Ă  plus de cinq minutes. C'est un rĂ©gional qui complĂ©tait le podium en la personne d'Étienne Claisse. L'affiliĂ© du TriGT a tenu bon devant Louis Bouillet qui n'est arrivĂ© que 16 secondes derriĂšre. « Ce podium confirme ma bonne saison, prĂ©cisait le triathlĂšte originaire de ChiĂšvres qui ne doit jamais aller chercher bien loin la motivation quand il prend part au triathlon de la CitĂ© des Aviateurs. En me montrant plus sĂ©rieux Ă  l'entraĂźnement, je me suis amĂ©liorĂ© dans les trois disciplines. Au challenge francophone, je ne dois pas ĂȘtre loin d'une place sur le podium. Ces rĂ©sultats me donnent envie de me frotter au niveau national la saison prochaine. »
Chez les dames, en l'absence des Emma Claise ou Kelly Decaluwé, Sophie Chrétien s'est livré à une démonstration, terminant son triple effort avec plus de sept minutes d'avance sur Sandra Haulait. De beaux vainqueurs pour un triathlon dont la principale force reste la qualité de son organisation. Qualité reconnue avec, encore cette année, des listes d'attente au niveau de l'inscription, le triathlon organisé par l'Endurance Team de ChiÚvres ayant déjà dû afficher complet deux mois à l'avance.
Classement Promo : http://www.ultratiming.be/wp-content/uploads/2019/09/Triathlon-de-ChiĂšvres-Promo.pdf
Classement Quart : http://www.ultratiming.be/wp-content/uploads/2019/09/Triathlon-de-ChiĂšvres-Distance-Olympique.pdf
Article de notre Journaliste Geoffrey DEVAUX La DerniĂšre Heure :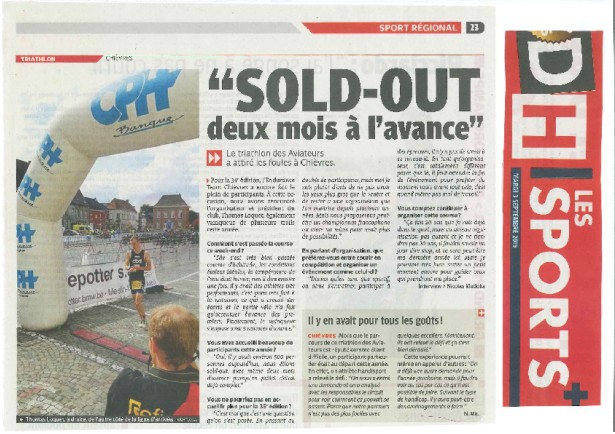 ---
TRIATHLON de VICHY
RĂ©sumĂ© de Justine MATHIEUX : 8° Pro !!
8Ăšme PRO au 70.3 de Vichy đŸ"°. TrĂšs contente de ce rĂ©sultat pour ma derniĂšre course ironman de l'annĂ©e. Le vĂ©lo aura Ă©tĂ© sans doute un peu plus compliquĂ© que d'habitude car j'ai eu trĂšs froid. Je me rapproche de plus en plus des meilleures et ça, c'est encourageant ! Il y 3 ans quand j'ai repris le triathlon aprĂšs 3-4 ans d'arrĂȘt (15 kilos de plus, des footings Ă  8km/h Ă  170 puls, ĂȘtre obligĂ© de descendre du vĂ©lo dans la Malate..) et qu'on m'aurait dit dans 3 ans tu courras en pro, je n'y aurais simplement jamais cru ! Un grand merci aux partenaires, au club, Ă  ma famille et surtout Kevin !
---
Swimrun Belgium de Robertville Sottiau Julien 1er
🎉Belle victoire, en cette fin de saison, sur le 15 km solo du Swimrun Belgium de Robertville 🏆
475 m D+ 🏃 et 6 sections de natation allant de 70 à 380 m 🏊
Parcours splendide autour du lac, passage au ChĂąteau Reinhardstein, single tracks, montĂ©es verticales Ă  travers bois, passages techniques avec pierres, ruisseaux ou racines... tous les ingrĂ©dients pour un beau trail 100% natuređŸŒČ