1° et Champion d'EUROPE d'Aquathlon en Roumanie : Robin SOTTIAU
2°Ironman de NICE : Kevin RUNDSTADLER/11° Wouter MONCHY
1° Triathlon Audenarde : Edouard VERSTRAETE et 1° Alex TONDEUR
1°NATURA Ã  Kanne : Sylvain DENIS
1° Chtriman : Adélie JADOT
Division 2 RETIE : Tri.GT 4°
---
IRONMAN de NICE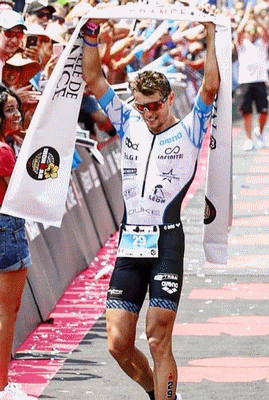 2 ème place sur l'IRONMAN France 🇫🇷 Nice pour Kévin Rundstadler et 11 ème pour Wouter Monchy.
Jimmy Sirimarco David Deom Aurélien Aurélien Lefèvre et Teddy ont tous été au bout de cette difficile journée .
Un groupe de tête s'est composé de 7 hommes en natation avec nos 2 athlètes.
150 km à vélo était au menu à cause de l'alerte canicule et 30 km à pieds.
Quelle est la bonne tactique ???
Kevin a fait la course derrière un Frederik Van Lierde très costaud qui a creusé l'écart ! Kevin parvient à s'isoler aussi.
Derrière,seul James Cunnama est bien resté au contact. Wouter est dans les 10 mais devra laisser filer un peu sur la fin ( un prolongateur Hs ).
Sur la cap, Kevin accuse 5 min 30 de retard sur la première place et 2 min d'avance sur le 3 ème. Après 10 km ...il revient et prendra la tête jusqu'au 18ème km. Les visages sont tirés ! James Cunnama reviendra sur Kevin pour filer vers la victoire.
Wouter lui se rapproche du Top 10. Il a au final bien géré les efforts et aurait pu revendiqué mieux.
Bravo à nos athlètes pour leurs efforts et résultats !
Félicitations à James Cunnama pour cette victoire et à Frederik Van Lierde . Un beau podium !

https://www.facebook.com/126364554047791/posts/3337050072979207 ?s=100010631555402&v=e&sfns=mo
Résumé de Wouter Monch
Le samedi tout se passe bien et c'est vite dimanche matin où on prend le départ de cette quinzième Ironman Nice.
Pour la première fois je ne me mets pas sur la première ligne mes derrière Frederik Van Lierde et quand le départ est donné je suis bien parti.
Je suis à l'aise dans le groupe de tête et je me demande même pourquoi on ne nage pas plus vite. Avec l'aide de la nouvelle speedsuit d'Arena je sors, avec Kevin dans le groupe de tête.
Je laisse partir Kevin et Fred à vélo, leur tempo est trop élevé. Mais je suis bien dans mon rythme et dans la course. Jusqu'au km 20...
Il y a une île de trafic que je vois trop tard et je le prend à haute vitesse. Mon aérobar gauche prend l'impact et il y'a une visse qui s'enlève.
Je continue mais c'est dur d'utiliser les prolongateurs et ça demande beaucoup de mon dos mais jusqu'au kilomètre 90 je suis bien dans la course mais là les choses se compliquent.
Je sens que j'ai du mal à pousser les watts prévu. La position instable sur le vélo a demandé beaucoup de mon corps.
Dans la descente de col de l'encre le reste de mon aérobar gauche s'envoie et je peux juste éviter une chute. Je continue, les mains sur le guidon.
Début course à pied j'ai vraiment mal aux dos et je n'arrive pas à bien courir mais après 5 km je trouve mon rythme et je commence à reprendre des gars. Avec un peu de chance le top 10 est encore possible.
Mais moi aussi je me fais surprendre par quelques athlètes. Je reste bloqué sur la onzième place.
Je croise la ligne d'arrivée. Déçu ! Je n'étais pas venu pour une onzième place.
Je suis déçu mais aussi content que je me suis battu jusqu'à la fin. Couse réduite, problèmes mécanique, chaleurs. Si on prend départ d'un Ironman, on pousse jusqu'à la fin.
Le top résultat sera pour la prochaine fois.
Félicitations à Kevin.
C'est vraiment du grand niveau ce qu'il a montré. Il se place entre deux des meilleurs Triathlètes du monde !

---
TRIATHLON VLAANDEREN Ã  AUDENAERDE
Au programme aujourd'hui 1000m de natation, 45km à  vélo dans les monts Flandriens et 10,4km de course à  pied entre terre et asphalte. La natation se passe plutôt bien, je suis au coude au coude avec David de Groff jusque la dernière bouée puis j'arrive à  créer un petit écart pour sortir en tête de l'eau. Le début du vélo est assez dur avec une belle bosse comme je les aime, je mets en route directement en espérant creuser l'écart, et c'est chose faite puisqu'en haut de celle-ci je me retrouve esseulé en tête de course. J'essaie ensuite de gérer mon effort, à  la fin du 1e tour je constate que j'ai déjà  creusé un écart intéressant, maintenant à  moi de gérer la suite pour aller jusqu'au bout. A la fin du vélo, je bénéficie d'une avance d'environ 2' sur le second, je sais que la course n'est pas terminé car je me souvenais de l'an passé où j'avais vraiment souffert en course à  pied sur la 2e partie, ici je sens dès les 1e hectomètres que les jambes sont bonnes, mais maintenant il faut tenir car derrière il y a de bons coureurs. Après le demi-tour je vois que je n'ai quasiment rien perdu, et les jambes tournent encore bien malgré les pieds qui commencent à  bien chauffer. Je m'encourage et je me dis que ça va le faire et j'arrive assez vite dans le dernier kilomètres et là  j'ai le tant de savourer la victoire. Une course qui fait beaucoup de bien au moral après un mois de juin très compliqué sur le plan sportif !
Edouard Verstraete van start tot finish : door Hans Cleemput
Bij de mannen ging Edouard Verstraete van start tot finish aan de leiding. Vorig jaar nog zesde in Oudenaarde, greep hij nu meteen de koppositie stevig vast. David De Grooff volgde als tweede, maar zag de TRIGT-atleet steeds verder weg rijden. Ook in het lopen hield Verstraete stand.
De jonge Waalse belofte won verdiend in 2u09'54. David pakte in 2u11'37 de tweede plaats voor een nog sterk lopende Jan Petralia die in 2u12'45 nog knap derde werd. De heroptredende Hans Vanden Buverie werd na bijna een jaar zonder competitie vierde en Bruggeling Jordi Kooiman bevestigde de goeie vorm van de laatste weken met een mooie vijfde plaats.
Wereldkampioene Tondeur wint "mooiste triatlon ter wereld" in Oudenaarde
Hans Cleemput, 8 juli 2019 2 min read 167
Alexandra Tondeur heeft zondag de Sportoase Triatlon Van Vlaanderen gewonnen in Oudenaarde, voor de vijfde keer op acht edities. "Ik vind dit de mooiste wedstrijd ter wereld en kom hier altijd graag meedoen," zei de wereldkampioen triatlon long distance achteraf. Bij de mannen was er ook een Waalse zege met een heel sterke Edouard Verstraete, nog altijd belofte, die David De Grooff te snel af was.
Alexandra Tondeur kwam in het spoor van Kelly Decaluwe mee als eerste uit het water en pakte meteen voorsprong op de concurrentie. Die concurrentie kwam vooral van Ines Van Troyen, al moest zij op de fiets al meer dan drie minuten toegeven op een ontketende Tondeur. Alexandra maakte het in het lopen vlot af en liep in 2u25'03 naar de overwinning, goed voor de 17de tijd overall ! Maurine Ricour kwam nog terug naar de tweede plaats op meer dan zes minuten. Van Troyen werd derde in 2u35'08. "Nu Alpe d'Huez en Embrunman" "Ik vind dit de mooiste wedstrijd ter wereld," vertelde Alexandra The Great. "Ik kom hier altijd graag terug en wou vandaag natuurlijk die vijfde zege pakken. Het is een parcours dat me ligt. Bovendien verliep de wedstrijd perfect. Nu gaat de riem er even af en ga ik me opnieuw voorbereiden op de triatlon van Alpe d'Huez en de Embrunman, de volgende doelen voor dit seizoen," aldus de wereldkampioene.
https://www.3athlon.be/2019/07/08/wereldkampioene-tondeur-wint-mooiste-triatlon-ter-wereld-in-oudenaarde/ ?fbclid=IwAR17KjvpOSK6nbfO2qrEjVrkeEXXoxjiWFYxPnxWBr2NsHC2djTjvrnsLVA
http://results.myvtdl.be/print ?type=scratch&event=1393
---
CHAMPIONNAT d'EUROPE en ROUMANIE :
1° Robin SOTTIAU
Aquathlon EUROPEAN CHAMPION 30-34yrs
!!!
First out the water 🏊‍♂️, not the run 🏃‍♂️ I expected but gold medal is here 🥇
I would like to thank, of course, my wife, Amel Aït Oussaïd,💑 amazing mother, 👨‍👩‍👧who let me make sports.
Last year, I was hospitalized during 11 days for kidney dysfunction (10% working). Kind of revenge so !
Then, a little baby 👧 came to enlight my life and pushed me to reach this aim 🎯
Special thank to Jérémy Legrand, for our running sessions 🏃‍♂️🏃‍♂️
Glunderende Robin Sottiau en Arno Lambrecht in Targu Mures (foto : Loic Helin)
EK Aquatlon levert eerste Belgische (age group) goud op in Multisport Festival
Hans Cleemput, 5 juli 2019 2 min read 150
Met het EK aquatlon stond vrijdag de voorlaatste discipline van het Multisport Festival op het programma, de laatste proef voor de Belgische selectie in Targu Mures. Giani Vanden Broucke sloot het Belgische avontuur in Transylvanie af met een knappe vijfde plaats bij de juniores. Bij de age groupers zorgde Robin Sottiau voor het eerste Belgische goud in Roemenie.
Laatste discipline voor Belgen
Zondag staan er geen Belgische triatleten aan de start van het EK long distance, in volle concurrentie van de Europese Ironman en Challenge wedstrijden. En dus was het EK aquatlon de laatste discipline voor onze landgenoten. Geen Emmanuel Lejeune in Targu Mures, nog herstellende van een val nadat hij op training in botsing kwam met een hond.
Sylvain Denis klopt Sander Heemeryck, Stefanie Adam solo in Cave Triatlon
Hans Cleemput, 3 juli 2019 4 min read 413
Sylvain Denis en Stefanie Adam hebben zondag de Cave Triatlon in Kanne gewonnen, een triatlon volgens de 111 formule, met 1000 meter zwemmen, 100 km fietsen en 10 km lopen. Sylvain Denis rekende af met een sterke Sander Heemeryck, Stefanie Adam deed het met een indrukwekkende solo.
De wind maakte de temperaturen wat draaglijker maar het fietsparcours nog zwaarder. De triatleten moesten vier keer de Slingerberg bedwingen, maar voor de rest was het een redelijk vlak parcours met een groot stuk met de wind pal in het gezicht. Ideale omstandigheden voor Sylvain Denis om uit te pakken met een sterk fietsnummer.
Sander Heemeryck aan leiding
https://www.facebook.com/watch/ ?v=2317228581920986
Hij had ongeveer vijf minuten achterstand na de 1.000 meter zwemmen op Simon Van Langenhove, die op een halve minuut gevolgd werd door Sander Heemeryck op kop van een achtervolgend groepje. Heemeryck en Van Langenhove gingen er alleen van door op de fiets maar halfweg knalde Sylvain Denis het gat dicht en hij ging in de derde ronde op en over Sander Heemeryck.
In de tien kilometer lopen kwam Sander Heemeryck nog even dichterbij maar Denis was in de Mergelgrotten en op de trappen de sterkste. Hij won overtuigend voor Sander Heemeryck in 3u16'39. Sander kwam 2'17 later als tweede binnen. Voor de derde plaats ging een sterke Nicolas Auverdin nog voorbij aan Simon Van Langenhove. Nico werd derde in 3u25'56, drie minuten voor Van Langenhove. De verrassende Steven Eyckmans werd vijfde.
Sylvain Denis : "Nu tijd voor rust"
https://www.facebook.com/Sportevents.be/videos/2589778324380078/
Sylvain Denis was blij met de overwinning. "Ik wist dat ik in het fietsen alles op alles moest zetten om voorbij Sander te geraken, want anders had ik hem in het lopen nooit kunnen kloppen. Het ging goed vandaag. De conditie is al een tijdje goed, maar vanaf nu is het tijd voor een beetje rust. Deze week vertrek ik op vakantie," aldus Sylvain. Voor Sander Heemeryck was het de wedstrijd te veel op een korte periode. "Ik voelde dat Geraardsbergen nog in de benen zit. Dit was de laatste van een mooie reeks wedstrijden en vandaag zat er niet meer in tegen een sterke Sylvain Denis," aldus Sander
Résumé de Sylvain Denis sur la première partie de saison :
Victoire à Warnant et bilan de la première partie de saison :
Après un succès sur les terres de ma petite filleule Marion qui clôture la première partie de ma saison, il est temps de tirer le bilan de celle-ci.
Tout à commencer à Ocquier pour le championnat francophone de duathlon sprint sous la grêle et dans le froid. Je termine troisième derrière Noah Servais (maintenant sportif élite à l'armée) et Antoine Didier. La forme n'y était pas mais même en pleine possession de mes moyens le résultat n'aurait certainement pas changé.
Viens ensuite Bilzen un 111 très relevé (1km de nat, 100 bornes de vélo tout plat et 10km de plat). Natation catastrophique, bonne remontée à vélo mais il y a deux monstres (Stenn Goetstouwers 2ième IM Autriche dimanche et Bas Diederen 2ième du 70.3 Luxembourg), puis derrière le groupe de chasse qui roule ensemble. Je sors une bonne cà p et reviens à quelques secondes du moins bon du groupe et finis donc 8.
Victoire au trail de Durnal.
La semaine suivante à La Roche, je remets le couvert pour mon vrai objectif : un 111 mais cette fois avec 100 bornes de VTT (5h au lieu de 2H15) et 10 de trail. Je rentre sur la tête après 20 bornes de VTT. Nous roulons à 3 pendant 2h, puis à deux avec Yeray Luxem (vainqueur Xterra Belgique) pendant 1H et ensuite la course commence ! Il attaque, je chasse pendant 1h à VTT et tout le trail mais je finis deuxième à 16 secondes.
Victoire au trail de Namur.
La suite se passe également à  Namur, au Xterra, ma course de cœur depuis 3 ans. Impossible de ne pas participer à  une course pareil quand on peut se rendre au départ à  vélo. Malheureusement après une 8ième place, une 14ième, une 18ième, je finis cette édition « seulement » 20ième, certes 3ième amateur, vainqueur dans ma catégorie et premier namurois (challenge 5000) mais un niveau pro toujours plus élevé et des écarts très serrés ont pour conséquence de me faire reculer dans la hiérarchie. Ma course fut correcte et je ne crois pas pouvoir faire beaucoup mieux.
Retour au triathlon sur route à Wanze. Le temps d'adaptation au vélo de chrono fut court et j'ai souffert devant les jeunes, heureusement, pas de faute tactique à déplorer, la roue tourne en ma faveur et je m'impose pour la troisième fois dans cette épreuve.
Au Namuraid avec mon pote Antoine, nous poursuivons également notre série de trois victoires grâce à une course nette et sans bavure !
Sous la canicule (belge), à Kanne, de nouveau sur un format 111, je me frotte à quelques athlètes en forme, sortant des championnats de Belgique de long. Dans une toute bonne journée, je reviens sur la tête à vélo et pose celui-ci en premier avec une minute d'écart. _ _ Bien que moins bon coureur que Sander Heemeryck lancé à mes trousses, je résiste grâce à un effort bien géré et une bonne adaptation à la chaleur pour remporter une des plus belle victoire de ma carrière.
Et pour finir le chlem, encore un succès sur trail à Warnant.
Beaucoup de positif et énormément de satisfaction viennent ponctuer cette première partie de saison ! La suite sera articulé autours de l'ironman de Barcelone en octobre avec des demis(Eupen, Ironlake) et d'autres courses préparation restant à définir.
Merci pour votre suivit et vos encouragements.
A bientôt
---
CHTRIMAN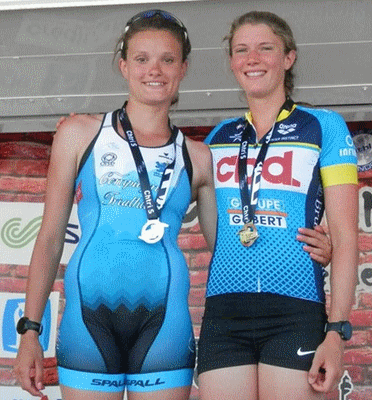 Résumé d'Adélie JADOT :
Eau à  22°, 1ère question se pose, combi ou sans combi ?
Après persuasion de ma coach du jour, Inès Hainaut, j'opte pour nager en trifonction. A 300 dans l'eau et que des filles dont pas mal qui faisaient leur 1er triathlon, c'était pas évident. Mais je me glisse à  l'extérieur et sort de l'eau indemne à  la 17e place. La transition se fait pour une fois très rapidement vu que je n'ai rien à  retirer, je pars donc en 12e position en selle sur mon bolide.
Malgré un drafting autorisé, je fais les 20km seule mais je parviens à  remonter à  la 6e place pour commencer les 5km sous la chaleur torride de ces derniers jours. Heureusement j'avais ma flasque kalenji ! J'en dépasse une, deux, trois, quatre et encore une dernière et me voilà  première ! Je franchie donc l'arche d'arrivée avec une petite minute d'avance et pas mal de frissons

https://www.facebook.com/clubtrigt/posts/2328441840749137 ?notif_id=1562582410913942&notif_t=page_post_reaction
---
Division 2 Ã  RETIE
Ce dimanche, la 3e manche de la 2e division de la T³ Series était organisée à  l'occasion du traditionnel Triatlon Retie.
Après les soucis pour composer une équipe lors de la 2e manche à Kinrooi et donc la perte de points au classement général, un équipe au complet pour cette 3e manche avec un objectif : se faire plaisir (...et les résultats suivront automatiquement😉).
L'équipe se composait de Yves d'Harveng, Mattias Van Eetvelt Vasquez, Julien Sottiau, Quentin Dillies, Raphael Villette et Pierre Haenecour.
Meilleur temps natation pour Mattias et une belle 4e place finale, 16e place pour Yves avec le meilleur temps en course à pied, 31e place pour Quentin, 45e place pour Pierre et 48e place pour Julien.
Sauf erreur de calcul et en attendant le classement officiel, nous terminons 5e d'une 3e manche qui nous permettra de remonter au classement avant la prochaine manche qui se tiendra à  Weiswampach le18 août.
Félicitations à vous 6 pour votre participation et vos prestations 💪👏
Un grand merci à Tiphène Frédéric pour les photos 📸
P.S. : pour Weiswampach, il faudra se préparer à  vélo pour rouler comme l'équipe Wanty-Gobert Cycling Team sur leTour de France (53,5 km/h de moyenne mais sion fait10km/h demoins, ce seradéjà  très bien 😂) Bon Tour à  toute l'équipe (sportifs et encadrement)
Résumé de Pierre HAENECOUR :
Retour dans le canal de Retie, un an après ma première participation à  une team series. Comme l'an dernier, natation sans combi. A l'inverse de l'an dernier par contre, on est vraiment serré sur la ligne de départ. Je pars en 4ème ligne. Dès le départ je prends pas mal de coups et j'en perds mes lunettes. La suite de la natation se passe bien et je remonte progressivement les nageurs qui n'ont pas raté leur départ, eux... Sortie de l'eau à  la poursuite de Yves et Raphaël que j'aperçois devant moi. Le temps de prendre le vélo, ils sont dans un groupe de 4-5, et moi 100m derrière avec un autre athlète. On restera au contact (entre 50 et 100m) pendant presque 10km sans qu'ils ne semblent me voir. Je remarque même à  la faveur des tournants que ce sont eux qui mènent leur groupe. L'oreillette aurait été utile à  ce moment ! Vers le km 15, je rentre enfin sur leur groupe grâce à  un gros rouleur du SMO qui nous rejoint de l'arrière. Dans le groupe figure également Julien Sottiau à  présent. Nous poserons à  4 athlètes du Trigt... mais déjà  relégués au delà  de la 40ème place. Yves démarre en trombe et Raphaël me dépasse rapidement pour rester 100m devant moi toute la course à  pied. Au final une 45ème place sur 91 athlètes à  l'arrivée. La D2 s'est considérablement durcie cette année. L'an dernier sur le même parcours j'avais couru et roulé sensiblement moins vite et j'étais pourtant nettement mieux classé. Place à  quelques weekend plus calmes pour préparer la seconde partie de saison.
https://www.3athlon.be/2019/07/09/21-triatleten-strijden-om-de-zege-in-het-lopen-video-verslag-van-t2-series-retie/ ?fbclid=IwAR19ZZcinmgd-d5jNVoxyuRYLbAKx4wBzG946j5-XeuJRrqrNN3F0kwhqSk
21 triatleten strijden om de zege in het lopen – video verslag van T2 series Retie
Hans Cleemput, 9 juli 2019 1 min read 91
De derde manche van de T2 triatlon, de tweede divisie van de T3 Team Triatlon Series, leverde in Retie een bijzonder spannende strijd op tussen 20 koplopers die samen aan de loopproef begonnen. 3athlon.be was erbij en legde de strijd om de winst en vooral de spectaculaire spurt met drie voor de tweede plaats vast in onderstaand video verslag, voorzien van commentaar door onze hoofdredacteur… Uiteindelijk was het Thomas Guilmot die zijn tweede overwinning op rij behaalde in een T2 race. "Ik vond de overwinning in Kinrooi nog iets mooier," vertelde hij. "Hier wist ik halfweg het lopen dat de overwinning binnen bereik was, maar het was door de wind best wel moeilijk op de fiets," aldus de NSTT-triatleet. Vince Van De Poel haalde het in een spannende spurt voor de tweede plaats tegen Brecht De Smedt en Mattias Van Eetvelt Vasquez. Collectief kwam SMO-Specialized het sterkst voor de dag, maar ook 3PT en de KTT-Youth scoorden goed en blijven aan de leiding van het klassement. De volgende proef is in augustus in Weiswampach.